Czas na zapoznanie się z ludźmi, którym del Toro poniekąd zawdzięcza swój sukces oraz kilka osób bez kórych wiele hiciorów nie miałoby racji bytu. Ostatnia przedseansowa część wprowadzenia do filmu Pacific Rim otworzy jeszcze szerzej oczy na gatunek Monster Movie i chyba wyjawi wszystkie pobudki przez które wybieram się na wtorkowy seans. Zapraszam!
Third Millennium Monster Movie
(przed seansem III – reżyseria, scenariusz, historia, obsada)
❹
Nie ma co szukać, skoro ma się świetnych ludzi pod ręką
Głównymi rozgrywającymi u del Toro są przede wszystkim Ron Perlman i Doug Jones, którego chyba w prawdziwej postaci nikt z widzów nie widział. Ron to grający od ponad 30 lat Nowojorczyk. Po jego Walce o Ogień w 1981 nie od razu stał się gwiazdą. Małymi kroczkami w rolach drugoplanowych, a potem u del Toro grając pierwsze skrzypce (Cronos, Hellboy) stał się ikoną kina przygodowego i futurystycznego horroru. Dla mnie zawsze będzie taką małpą ekranową, a to pewnie przez posturę, ruchy i fenomenalną scenę z Obcy Przebudzenie. Współpracuje z Guillermo od dawien dawna podobnie jak Doug Jones. Facet, który potrafi wcielić się we wszelkiego typu szkarady i monstra jakie człowiek jest w stanie wymyślić. Niebanalna charakteryzacja plus instynkt Doug'a to przerażające połączenie – w pozytywnym sensie. Jeżeli go nie znacie to takie stwory jak: Abe Sapien / Szambelan / Anioł Śmierci z Hellboy'a, Srebrny Surfer z Fantastycznej Czwórki 2, Faun / Blady mężczyzna w Labiryncie Fauna przywrócą pamięć, te i wiele innych wymyślnych postaci naznaczają na nowo możliwości charakteryzacji i możliwości samego Johnes'a.
Marco Beltrami jest nadwornym kompozytorem del Toro, opracował ścieżki dźwiękowe do Mutanta, Blade II i dwóch części Hellboy'a. Podobnie Peter Amundson odpowiadający za montaż 4 filmów, w tym najnowszego Pacific Rim. Razem z nim, za efekty dźwiękowe odpowiada Scott Martin Gershin i jest w tym po prostu świetny. Nie mogę się doczekać tych elektronicznych cudeniek i makabrycznych potwornych wrzasków w nowym monster movie.
Z aktorów del Toro lubi pracować z Federico Luppi i Johnem Hurtem, o których czasami wspomina w wywiadach.
❺
Monster Movie czyli niechlubny gatunek science fiction
Monster movie to nic innego jak kino science fiction ocierające się jedną nogą o horror i film katastroficzny, a drugą o szeroko pojęte fantasy. Chodzi oczywiście o walkę człowieka bądź innej humanoidalnej formy z zdecydowanie większym przeciwnikiem (bardzo różnego pochodzenia) nie rzadko w zwielokrotnionej wersji. Często gęsto dawno temu tymi olbrzymami były zwierzęta (czy za sprawą napromieniowania czy innej szkodliwej działalności ludzkiej – a to obok genezy żywych trupów odzwierciedlenie strachu przed energią jądrową). Wraz ze zmianą trendów, do walki z człowiekiem stają coraz to nowe stwory i potwory, często – kosmicznego pochodzenia (można pominąć Atak kobiety o 50 stopach wzrostu).
Za pierwszy monster movie wielu uważa niemy obraz pt. Golem z 1915 roku, w reżyserii Paula Wegenera, a kultowymi filmami tego nurtu są niewątpliwie serie o Godzilli, King Kongu czy One!.
Ale jak to było na samym początku?
Nie chcę wdawać się w szczegółowe analizy i genezę tego typu filmów lecz chciałbym w telegraficznym skrócie pokazać jak głęboko sięga to kino i z jakim rozmachem za te filmy zabierano. Na start Zaginiony Świat z 1925 roku. Adaptacja powieści Arthura Conan Doyle'a jest prawdopodobnie pierwszym filmem MM (Monster Movie będzie w skrócie). Wyżej wspomniany film Golem po dziesiątkach lat w oryginalnej wersji zaginął, a reżyser 5 lat później nakręcił dzieło o tym samym tytule lecz nie mające nic wspólnego z MM.
Kolejny krok to technologiczny postęp i stworzenie za ogromne pieniądze (jak na tamte czasy) King Konga w 1933 i chwilę później (ale już mniej zaszczytne miejsce w kinematografii) Syn Konga. Historia wielkiej małpy w wielkim mieście doczekała się kilkunastu remake'ów i sequeli lecz poza Jacksonowym świeżym gorylem nie przypominam sobie równie charakterystycznej wersji tego filmu.
Długo, długo nic przez 20 lat do filmu Bestia z głębokości 20 000 sążni. Banalna fabuła, otóż testy nuklearne budzą / tworzą monstrum o nazwie Rhedosaurus, który bez namysłu rusza na Nowy Jork.
Schemat filmu, niczym napisane przez dziecko z podstawówki, zrobił (i robi w dalszym ciągu) ogromne pieniądze. Można było w dowolny sposób zmieniać przeciwnika, siły wojsk czy bohaterów i przechylać szale na różne strony aby w decydującym pojedynku ludzkość zwyciężyła.
Potwór z Czarnej Laguny w 1954 był filmem przełomowym ze względu na nowe technologiczne podwodne zdjęcia ale to nie pozwoliło aby woda sodowa uderzyła do głowy coraz to "ambitniejszym twórcom".
Trzymając się jeszcze lat 50' – wkraczają do kina takie produkcje jak:
"One!" (1954)
"Potwór z dna morza" (1954)
"Tarantula" (1955)
"To przybyło z głębi morza" (1955)
"Szpon" (1957)
"Zabójcza modliszka" (1957)
"Czarny skorpion" (1957)
"Atak gigantycznych pijawek" (1959);
"Giant Gila Monster"(1959)
"Zabójcze ryjówki" (1959) (sic!)
W trendzie królują potwory morskie, duże zwierzęta, większe zwierzęta i ogromne zwierzęta z kosmosu (Szpon).
Kończąc tematykę "realnych" przerośniętych zwierząt muszę smutno sprostować… ten ruch w kinie MM przejadł się tak szybko jak się pojawił. Duch tego typu filmów pojawia się w produkcjach niskobudżetowych lat 90 i współcześnie (wszelkie zmutowane rekiny), a jeżeli pierwowzór (w co wątpię, że jakikolwiek film o gigantycznych zwierzętach jest oryginalny) jest filmem z rozmachem to i tak jego zamierzone czy niezamierzone kontynuacje trafiają prosto na stoisko dvd za przysłowiową piątkę.
Na uwagę zasługuje również seria
Szczęk
oraz pierwsza część
Anakondy
, filmy w pewnym sensie dobre (pierwsze
Szczęki
nawet bardzo) ale nawarstwianie tematu robi się po prostu mdłe, a w niektórych momentach denne (
Piekielna głębia
).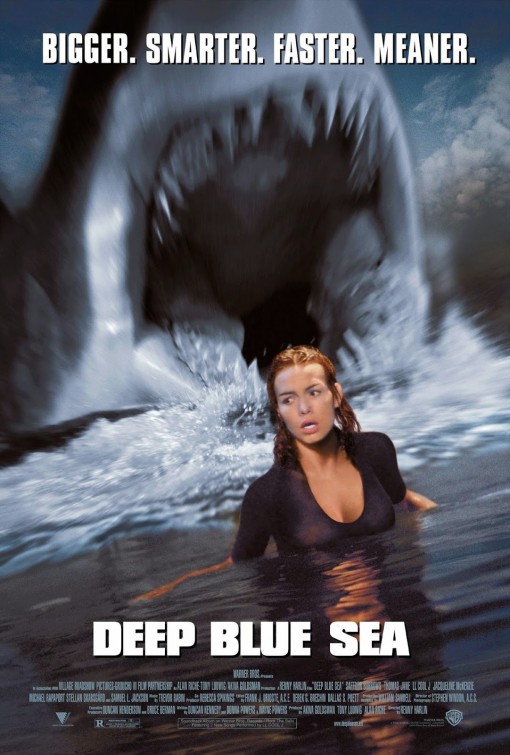 Kolejną odnogą jest prawdopodobnie podgatunek MM gdzie pierwsze skrzypce gra potwór stworzony przez człowieka. Godzilla królowała przez dziesiątki lat, jest to specyficzny twór kina Japońskiego, efekty specjalne w 1954 roku były szaleństwem… szkoda tylko, że w tak wielu kontynuacjach się nie poprawiły, a zamerykanizowanie japońskiego produktu przysporzyło tylko czkawki pod koniec lat 90'. Mam nadzieję, że jej nowa wersja produkowana na przyszły rok będzie zarówno skokiem technologicznym jak i ukłonem w stronę widza z Kraju Kwitnącej Wiśni.
Ciekawostka, w terminologii kina używa się określenia Kaiju co znaczy po prostu tyle co "Potwór".
No i czas na kosmitów, monstra z odległych galaktyk jak i z bliskich układów często gęsto wpadają w odwiedziny do Stanów Zjednoczonych. Mamy Wojnę Światów (1953, 1981, 2005), Dzień, w którym zatrzymała się Ziemia (1951, 2008) i mamy animację Potwory kontra Obcy. Gatunek się rozrastał i ciężko jest sklasyfikować konkretnie nowsze filmy i oddzielić grubą kreską.
MM swoją krótką definicją mogą wsiąkać w serię Obcy, mogą być również odnalezione w Ja, robot.
Moim faworytem z nowych filmów o tej tematyce jest chyba film Monsters (Strefa X) oraz Cloverfield (Projekt: Monster).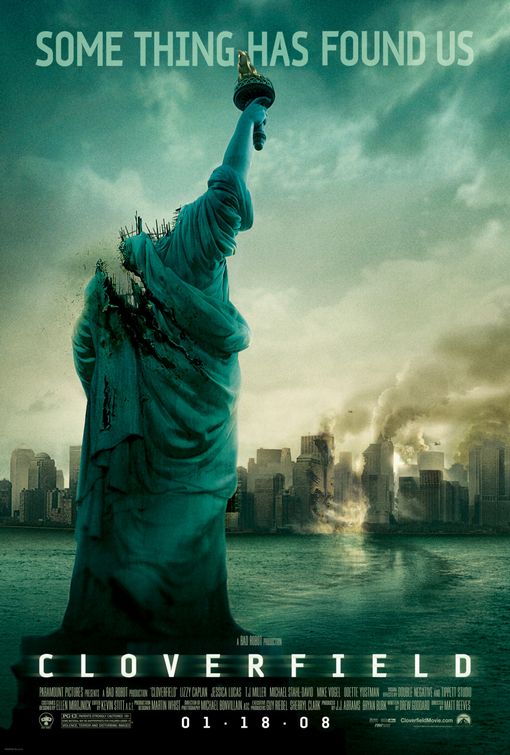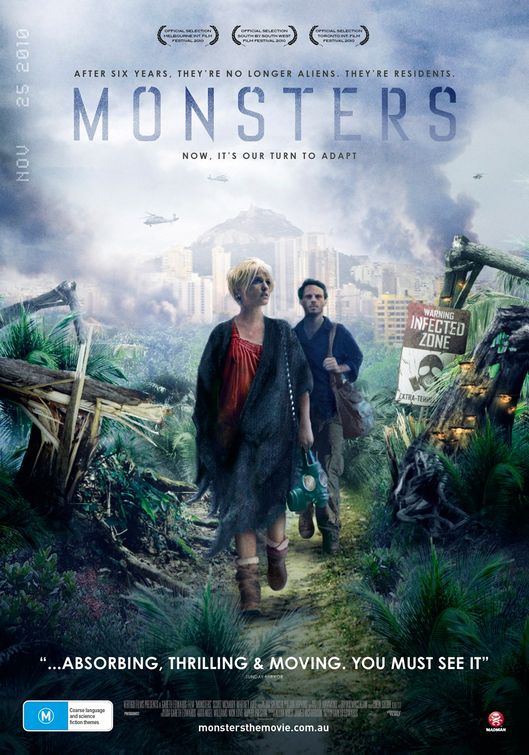 Co jeszcze z nowych filmów MM?
Battleship (2012) – nie mówię, że dobre tylko, że zahacza o temat
Attack the Block (2011)
Cowboys & Aliens (2011)
Trylogia (jak na razie trylogia) Transformers
Battle: Los Angeles (2011) – kolejny raz, nie mówię, że dobre
Skyline (2010)
Outlander (2008)
Starship Troopers 3: Marauder (2008) - oraz wcześniejsze części ST
Slither (2006) – bardzo lekki horror z humorystycznym zacięciem
+ dwie części
Piranii
:)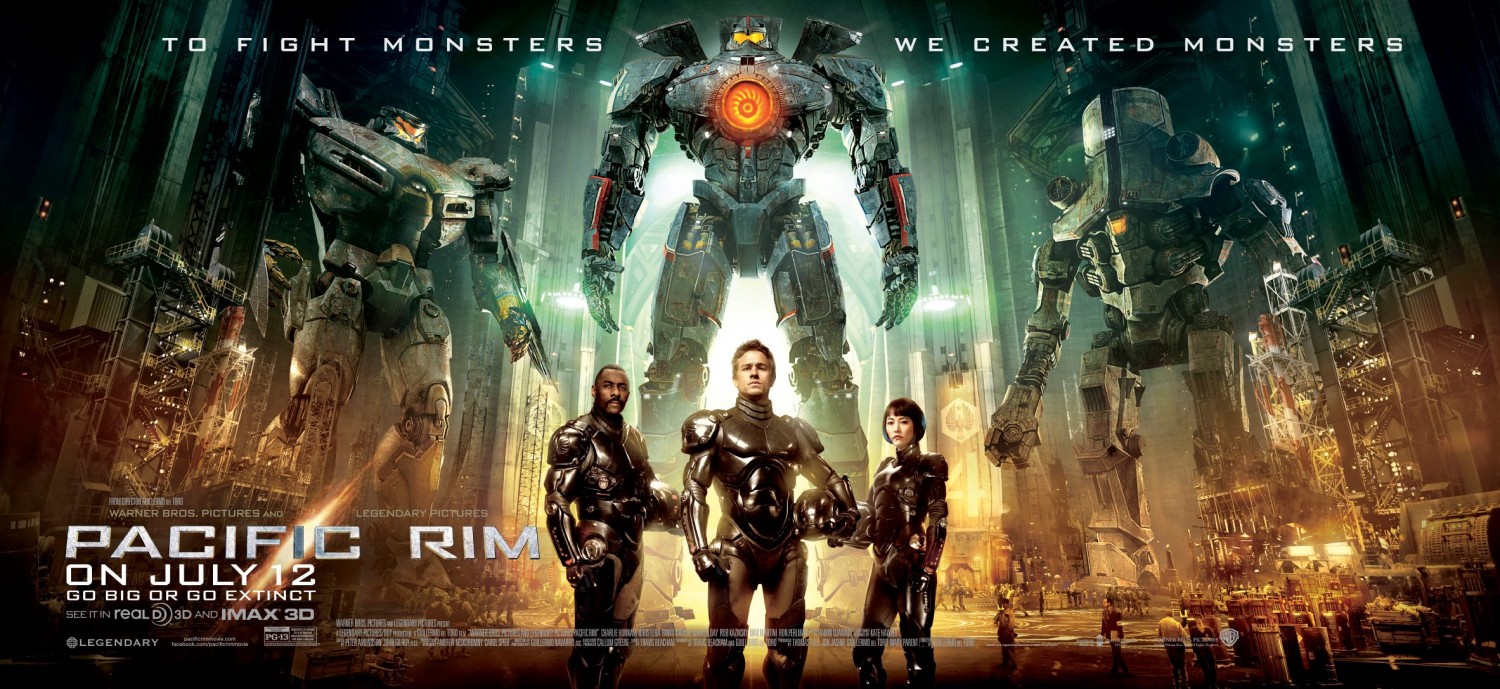 Czego oczekuję od filmów MM w XXI wieku?
- efektów przynajmniej na miarę Cloverfield'a
- fabuły, która nie będzie napisana na trzech stronach
- w końcu zabawnych wstawek a nie humoru Adama Sandlera
- wyśmienitej rozpier…. no dokończcie sami
Tak zapowiada się również Pacific Rim. Zobaczę to opowiem :)
całość materiałów wokół PACIFIC RIM
Third Millennium Monster Movie
autor: Maciej "temptershell" Wojtoń